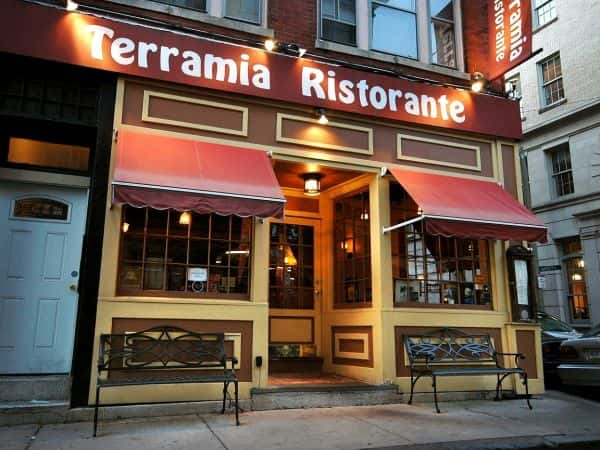 Terramia Ristorante Celebrates 190 Years of Wine-Making at Multi-Course Dinner
Terramia Ristorante Celebrates 190 Years of Wine-Making at Multi-Course Dinner
WHAT:
On Monday, November 6th, 2017, Terramia Ristorante, located on Salem Street in the heart of Boston's North End, is celebrating the long-standing history of Duca Di Salaparutra with a five-course Sicilian wine dinner beginning at 6:30PM. With more than 190 years of winemaking, Duca di Salaparutra is the award-winning and leading wine group in Sicily where each wine is made with expression of specific local areas and of a long wine-making tradition.
At this exclusive dinner, guests will as they enjoy a carefully curated Italian menu paired with Duca di Salaparutra vintages. The meal will start with Cozze Piccanti with sautéed mussels and spicy Organic Marzano tomato seafood broth. The second course follows with Capesante with pan seared sea scallops and veal truffle reduction. Indulge in the Bolognese with traditional ground veal, beef, pork meat tomato ragu. As the night continues, guests can enjoy a delicious Bistecca with Prime Filet Mignon, truffle potato mash, and red wine reduction. Finish the evening with Piatto di Formaggi Italiani featuring chef's selection of Italian cheeses and dry fruits. Ciro Pirone, Director of Italian Wines at Horizon Beverage Company will be on hand to discuss the nuances and history behind each and every wine.
COST:
The dinner is $70 per person (+tax and gratuity). Reservations are required and can be made by calling Terramia at 617-523-3112 or visiting http://www.terramiaristorante….
WHERE:
Terramia Ristorante | 98 Salem Street | Boston, MA 02113
WHEN:
Monday, November 6th, 2017 | 6:30PM
PRICE:
$70 per guest plus tax and gratuity
MENU:
-First-
Cozze Piccanti – Sautéed mussels, spicy Organic San Marzano tomato seafood broth
Duca di Salaparuta Colomba Platino Igt
-Second-
Capesante – Pan seared sea scallops, parsnip puree, veal truffle reduction
Duca di Salaparuta 'Kados' Grillo Igt
-Third-
Bolognese – Pappardelle pasta, traditional ground veal, beef, pork meat tomato ragù, basil, Parmegiano cheese
Duca di Salaparuta 'Lavico' Nerello Mascalese Igt
-Fourth-
Bistecca – Prime Filet Mignon, truffle potato mash, sautéed baby spinach, dolce Gorgonzola, red wine reduction
Duca di Salaparuta 'Passo alle Mule' Nero d'Avola
-Fifth-
Piatto di Formaggi Italiani – Chef selection of Italian cheeses and dry fruits
Duca di Salaparuta 'Duca Enrico' Igt