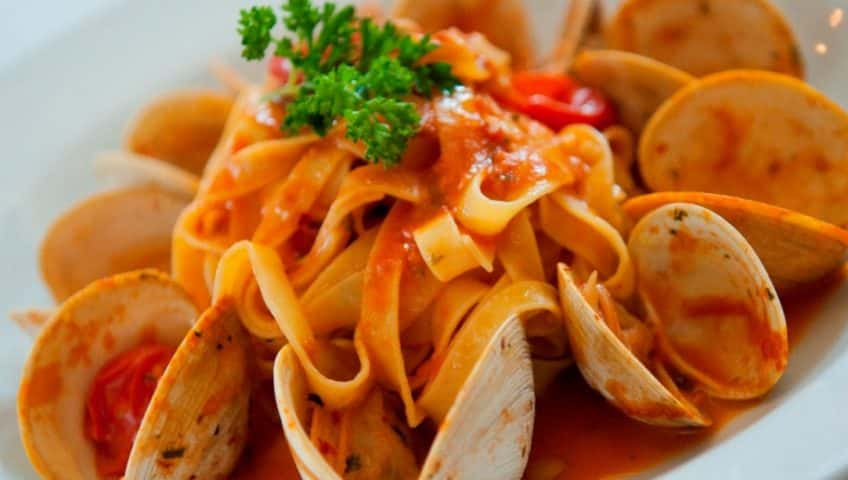 Local Restaurants Provide the Gluten Sensitive with More Options
Local Restaurants Provide the Gluten Sensitive with More Options
COM senior Jasmine Daniel was nervous about moving away from home and into a college dorm for the first time when she began her four years at Boston University. For most incoming college students, this is typical. But Daniel had something else to worry about in addition to the normal roommate and making friends aspects. She had to worry about something else called gluten.
Gluten is a group of proteins found in products such as wheat, rye, and barley. People with Celiac disease cannot eat gluten because it causes the immune system to attack the gluten, which harms the small intestine. This then makes it hard for the body to absorb nutrients.
According to the Gluten Free Network, gluten sensitivity in some form, including Celiac disease and mild gluten intolerance, affects about 15 percent of the U.S. population. That's 585 students out of this year's 3,900 freshman class, which basically means it's a big deal.
"Before I came here, I was nervous about eating," Daniel said. As a high school student, she felt she did not fit in with her classmates who could binge on pizzas and doughnuts as much as they wanted without the negative side effects she experienced.
"But then I found other things," she said, adding that the places she turned to for gluten-free items were health food stores and, surprisingly, restaurants. Uno, P.F. Chang's, and Outback Steakhouse were among Daneil's favorites.
"I love food and I love going out to eat, so I went where I could go," Daniel said. "It was rough in the beginning, but now six/seven years later, I don't mind at all."
Restaurants like Uno's, P.F. Chang's, and Outback Steakhouse are among those making it easier for Celiacs and those with gluten-sensitives to enjoy food like their non-sensitive peers. According to a recent study by SPINS, gluten-free sales came to $12.4 billion in the 52 weeks leading up to August 4, 2012. Since last year, this number has increased by 18 percent when sales were only at $10.5 billion. These sales include natural, specialty gourmet and conventional food and drug sales.
With all this gluten-free information flying around, where does it leave Boston's gluten capital, the North End?
"I avoid the North End," Daniel said. "I know it's all pasta. When my friends go there, I stay home." Lucky for Daniel, she may not have to do that anymore. Multiple restaurants in the North End now offer gluten-free options for those who are sensitive to the protein. According to Menu Pages, there are 22 restaurants in the North End that now serve gluten-free dishes.
"Out of our 20 main dishes, we serve about 14 or 15 that are gluten-free," said Chef Joshua Breen of Terramia Ristorante in the North End. When he began as executive chef three years ago, Breen noticed the only gluten-free option the restaurant offered was chickpea flour gnocchi.
"I saw that gluten-free was becoming trendy and I wanted [those with gluten sensitivities] to enjoy their meals with other guests," Breen said. All the gluten-free dishes are made in-house, save for the Bionaturae linguine pasta because they do not have the type of cut available in the kitchen. The linguine comes from Italy. Terramia's ravioli is made with chickpea flour, a couple of eggs, water, and milk, and they use separate sifters and bowls while cooking.
"We also have vegan ravioli," Breen said. "We want all of our customers to be happy with a variety of options."
Breen, who grew up working in a spice company with his family, said he also uses Xanthan gum and potato flour as substitutes. Antico Forno, a restaurant of the same owner known for its pizza, is now working on a gluten-free pizza dough, which Breen, who serves as kitchen manager there, said is not quite finalized but almost there. They are currently working on capturing the proper texture. Antico Forno also serves gluten-free pasta.
As for other restaurants in the area, Breen feels they are on the same gluten-free page.
"I've noticed people picking it up more," Breen said. "Barbara Lynch has gluten-free options. It's definitely picking up as a food trend."
Once Breen began working on new recipes, it became a routine. He keeps all utensils separate and covers everything and trains his other cooks to do the same. Chickpea flour is a common substitution, something he uses in the Pork Osso Bucco and what he uses to bread the chicken. He makes about three to four gluten-free pastas a day and usually makes more on the weekends.
"I've seen a lot of gluten-free people," Breen said. "We make our recipes fresh and we go through them a lot."
Thanks to restaurants like Terramia and Antico Forno, people like Jasmine Daniel no longer have to fear what they are putting in their mouths. Now someone go find Jasmine and tell her to take a trip to the North End. We heard she's never been.
October 8, 2012 by Samantha Wood