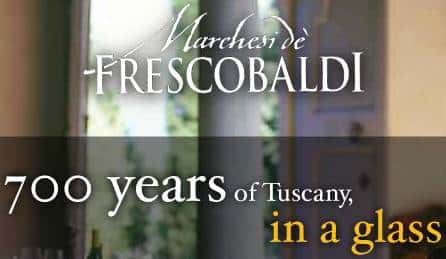 Frescobaldi wine – dinner
Frescobaldi wine – dinner
On Monday, June 2, at 6:30pm, Terramia Ristorante, located on Salem Street in the North End, is celebrating the long standing history of Frescobaldi wines with a five-course Tuscan wine dinner. The Frescobaldi family has over 700 years of winemakers dedicated to serving the highest quality Tuscan wines. Established in 1300, their faithful clients have included everyone from great Renaissance artists to the Papal and English Courts. Centuries later they were the first in Tuscany to plant Cabernet Sauvignon, Merlot, Pinot Nero and Chardonnay, and to this day they continue to change the wine industry.
At this Frescobaldi dinner, will sample Chef Luiz Prata's hand-crafted five course menu paired with Frescobaldi's Tuscan wines. The meal will start with Tonno Crudo, a sushi grada tuna tartare with cherry tomatoes, avocado, and micro greens salad matched with a 2013 Frescobaldi Pomino Bianco Chardonnay. The second course follows with Torta, smoked tomato and braised onion tart topped with goat cheese and mâche greens alongside a 2011 Frescobaldi Nipozzano Chianti Rufina Riserva. As the night continues, guests are treated to spinach and feta filled Ravioli Amatriciana with smoked pancetta, spicy Collina tomato sauce, pecorino and parigiano, paired with a 2011 Tenuta di Frescobaldi. The fourth course includes the Bistecca, a prime filet mignon complete with sweet potato mash, sautéed baby spinach and red wine reduction complimented by a 2008 Frescobaldi Castel Giocondo Brunello di Montalcino. The evening will finish on a sweet note, a Budino Di Pane, salted caramel bread pudding with vanilla gelato, is enjoyed with a 2006 Frescobaldi Pomino Vin Santo.
Ciro Pirone, Director of Italian Wines at Horizon Beverage Company will be on hand to discuss the nuances and history behind each and every wine.