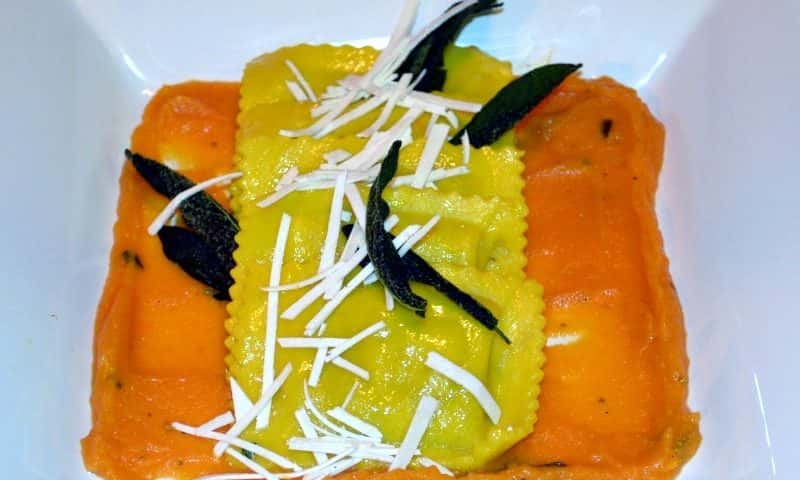 Fall Dish of the Week: Ravioli Autunnali al Burro Fuso at Terramia Ristorante
Fall Dish of the Week: Ravioli Autunnali al Burro Fuso at Terramia Ristorante
I know that I am probably one of those unique individuals who enjoys eating sweet potatoes and butternut squash year round. Waiting patiently for fall seasonal foods to roll around just isn't my forte. And neither is decision making. Determining whether I want a sweet potato ravioli dish or a butternut squash ravioli dish, can be a difficult choice. At least it was, until I entered Terramia Ristorante in the North End.
Sweet potato & butternut squash-filled ravioli
So you can bet I was first in line. Upon entering the intimate, classy Italian setting, filled with candlelight, white tablecloths and a warm atmosphere, I immediately felt comfortable and relaxed. Not to mention, it was slightly tucked away on Salem Street—away from the hoards of tourists. After ravaging the fresh bread (hey, it was a late dinner), I decided upon the "Ravioli Autunnali al Burro Fuso" —mostly because the description went something like this: "Sweet potato & butternut squash-filled ravioli." The fall dish to end all fall dishes.
And it really was. The dish consisted of 6 very large raviolis. So large, in fact, I couldn't finish the meal (and as you can see, the dish is larger than my head). The raviolis were stuffed with small pieces of fresh butternut squash and sweet potato. Unlike most ravioli you find elsewhere that has a ground up or processed filling, Terramia's filling felt like the real deal.
But what I like most about this dish was, hands-down, the sauce. Most restaurants drench their pasta in an exorbitant amount of sauce in order to hide the less than desirable ingredients inside. If you're like me and love Italian food, this can get old. But, Terramia's amount of lightly drizzled toasted hazelnut brown butter sauce was juuuust right. The perfect accompaniment to the fall ravioli, the sauce had a sweet, honey-like taste, which perfectly brought out the fall flavors of sweet potato and butternut squash.
In addition, the dish was topped with sage and pieces of sweet mascarpone, Italian cheese made from cream—just enough to complement the dish. No one thing on this ravioli dish was too rich in flavor or (in my opinion) overrode the dish as a whole. But if you're looking for something savory, this dish probably wouldn't be your pick. It's certainly sweet, but not too sweet. All of the ingredients blended together to create an autumn ravioli that was far and away the best I've had in Boston.