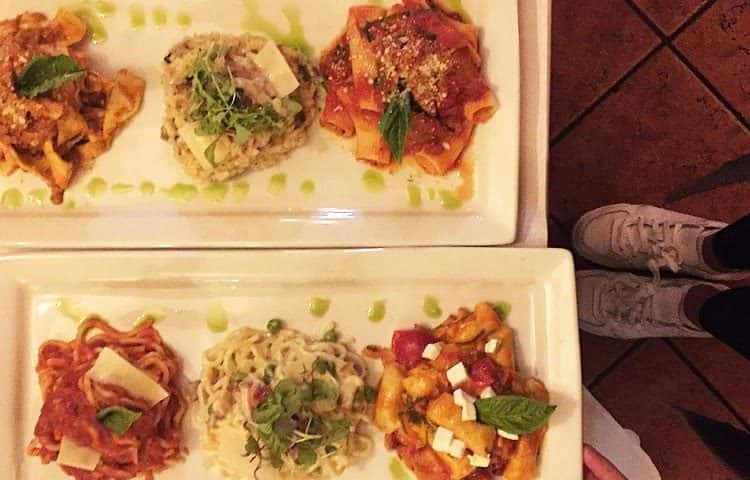 Endless Pastabilities – The Boston Food Journal
Endless Pastabilities – The Boston Food Journal
The pastabilities are endless…no really, they are.
Terramia Ristorante on Salem Street in the North End is serving up one of the best pasta pairings around.
Spaghetti, rigatoni's, campanelle's – any die hard "carbo" will understand the complexities involved in choosing just one of many endless noddle types. But why choose one when you can choose multiple? With the 'Monday Night Pasta Flight' at Terramia, you can mix and match up to three pasta dishes from their varied menu offering.
Every Monday from 5:00pm (Eastern) to 10:00pm, you can create your own personal trifecta from any of the following dishes for a fixed price of just $25:
Rigatoni con Salsiccia: Baked rigatoni with sausage & broccoli rabe, San Marzano tomato & basil sauce & Parmigiano cheese
Spaghetti con Pomodoro: Abruzzi style, spaghetti, San Marzano tomato sauce, basil & Parmigiano cheese
Gnocchi Amatriciana: Potato dumplings, buffalo mozzarella, red onion, basil, smoked pancetta, spicy Collina tomato sauce
Spaghetti alla Carbonara: Spaghetti, smoked pancetta, sweet peas, egg & Parmigiano cream sauce
Pappardelle alla Bolognese: Pappardelle pasta, traditional ground veal, beef and pork meat, tomato ragù, basil & Parmigiano cheese
Risotto: Chef's creation of the day.
As you can see from the menu above, you are able to pick from dishes that are diverse and unlike one another. I really enjoyed being able to craft my own dinner plate based on elements that I favored.
I left Terramia with a full stomach and happy heart! I grew up on Italian food, so I was particularly able to note the cultural touches within each plate (sweet homemade sauces, balanced flavors, and perfectly cooked el dente pasta).
Now, probably for the first time in your whole life, you can look forward to Monday's.
Trust me on this one, guys – I'm no impasta.
Mangia!