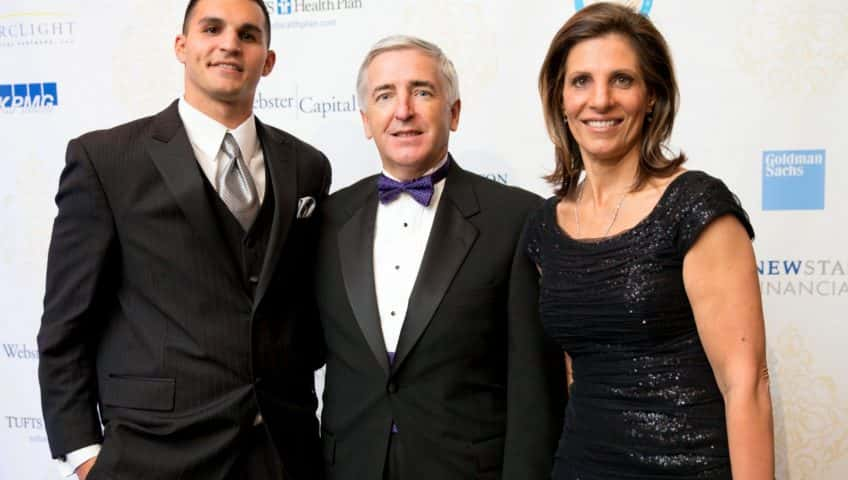 Carla Gomes DH '81 Serves Up Charity
Carla Gomes DH '81 Serves Up Charity
Walk down Salem Street in Boston's North End, and you'll probably see Carla Gomes DH '81. The beloved, ubiquitous owner of Antico Forno and Terramia restaurants, at which MCPHS students and their families receive 10% discounts, incessantly shuttles between the two establishments whose employees are as close as family. In the North End, family comes first. No one knows that better than Gomes. Gomes's son David, a 21-year old Pre-Med MCPHS student, was diagnosed with Type I diabetes on his first birthday. Gomes says that David was somewhat fortunate to receive an early diagnosis. Yet, living with diabetes poses major challenges. "Diabetes is always with you…It's a consideration in each move you make, every day," Gomes says.
Last May, Joslin Diabetes Center honored Gomes at Symphony Hall for her tireless diabetes research and diabetes care fundraising efforts that have yielded more than $150,000 since 2003. Proceeds from the annual CityFeast at Antico Forno are directed to Joslin's High Hopes Fund. "I want to raise as much money as possible for High Hopes so that one day David and millions like him will be free from diabetes and its complications."
Editor's Note: The below interview has been edited and condensed for space.
MCPHS – Tell us about your background and your time at Forsyth
Carla Gomes – I grew up in the North End on Hanover Street with two brothers. I spent two years at the Forsyth School for Dental Hygienists as a commuter student. Those two years were amazing. I even met one of my dearest friends on the very first day – we've been friends ever since. The first year was tough, a lot of work and an intense caseload. The second year wasn't as difficult. Forsyth really is a great school. I wouldn't have done it any other way. I just loved the faculty. I still have my license! I'm never going to give that up since it was so hard to get.
Now I have two sons in college, David at MCPHS and Robert at Curry College.
MCPHS – Tell us about your family
Carla Gomes – After graduation I traveled to California and took my board examination. I worked in San Francisco for a year and a half. My brother had previously lived out there and reported that the money was good. I worked for a number of great dentists, one or two days, here and there. In California you work for yourself.
In 1982 I returned to Boston as I missed my family, and got married in 1983. I had grown up with the man I married, a doctor who graduated from MCPHS, and we remained in touch while I was in California. I worked in a dentist's office located on the Boston waterfront until 1989 when I had my first son Robert. A year later I had my second son, David.
MCPHS – How did you end up owning two restaurants?
Carla Gomes – In 1993, when my sons were in preschool, my brother, who is a chef, was seeking to open a restaurant. Over Sunday dinner at my mother's house, he discussed a restaurant opportunity. I asked him if he would mind having a female partner. On the following Tuesday we met in front of the restaurant that he wanted to buy, which is now Terramia. By Friday it was signed, sealed and delivered.
After two months of renovations, we opened and never looked back. "What the hell did I just do?" is all I kept asking myself.
Opening night arrived with no advertising; we had 75 customers. They looked at the menu and noticed differences from the usual North End fare. Be built our reputation by word of mouth. It was a hit.
I credit our chef Mario for changing the way that people eat in the North End. Mario brought authentic Italian to the North End. Originally, I didn't know what he was doing but I learned quickly. That's what you do in the restaurant business. Terramia was the first restaurant in the North End to serve anything close to authentic Italian cuisine.
In 1996, the owners of the property where our Antico Forno restaurant is now located were selling the property. So I talked to Mario about opening a pizza restaurant. Pizza is one of my favorite foods, and we had the first wood-burning brick oven stove in the North End. The second half of Antico's name, Cucina a Legna, means "of wood."
Terramia and Antico Forno, Cucina a Legna offer two different types of fare. Terramia is regional upscale Italian; Antico is more traditional. Everything in Antico goes through the brick oven. We get a lot of families, as well as a lot of couples, but families seem to prefer Antico Forno to Terramia.
MCPHS – Tell us about your son's diabetes and learning about the condition
Carla Gomes – My son David was diagnosed with Type 1 diabetes on his first birthday. He had been sick, and was in Massachusetts General Hospital because he wasn't breathing well. The doctors reported that if he lived through the night, he would have diabetes for the rest of his life. On his birthday, July 24, he had lived with diabetes for 21 years.
Fortunately we had a fantastic doctor. MGH and later the Joslin (Diabetes Center) provided us with incredible services that we needed as a family – a whole network of services with nurses, nutritionists, dietitians and child and parent support groups. To this day, when I call Joslin about an appointment for David, they know who I am the second they pick up the phone.
My son doesn't know life without diabetes. Yet, I want him to know a life without diabetes. When they are born with diabetes, children go through a stage in life without a real concept of time. Yet, when he reached seven or eight years old he asked, "Am I going to have diabetes for the rest of my life?" David is studying pre-med at MCPHS, and is scheduled to graduate in 2013. I'm very proud.
MCPHS – What made you want to start raising money for Joslin?
Carla Gomes – Fundraising evolved because I needed to do something to give back to a place which had given us so much. With a restaurant, I had the venue to do something. I mean, who doesn't like to eat?
"CityFeast: Dining out to conquer Diabetes" has always been held at my restaurants Terramia and Antico Forno. We hold it on the last Sunday in January because it's a very quiet time in the restaurant world. – no football, not a lot going on. It has cost $150 per person since we started the event in 2006. Guests receive a five-course meal and wine pairings. Joslin receives proceeds of $100 from each ticket sold. In the past other North End restaurants, including Lucca, Tresca and Taranta have also joined in.
Every year we attract many elected officials, including Mayor Menino and his wife who have attended since the beginning. We've also had Celtics and Bruins players and their families, including Ray Allen's wife Shannon, Dana Barros from the Celtics and Nick Boynton from the Bruins too. Boyton has Type 1 Diabetes. He was crucial in helping us get the word out early on, and we are already planning next year's event!
This is my way of thanking the Joslin for everything they've done for us.