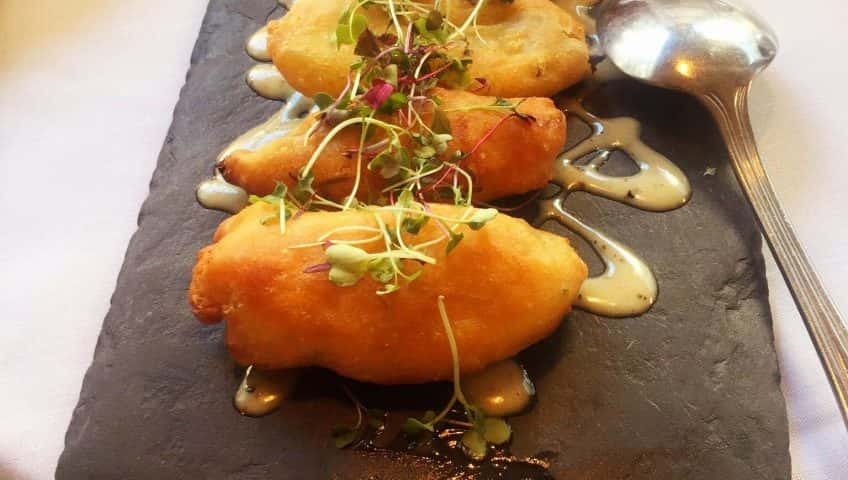 Boston Bites – Terramia Ristorante
Boston Bites – Terramia Ristorante
Nestled among the bustling life of Salem Street in The North End, Terramia Ristorante is a quaint, cozy place that has been opened since 1993. Owner and manager Carla Agrippino Gomes, a North End native appreciates Italian cooking and having a welcoming and warm environment.
I joined some fellow bloggers for Sunday Supper at Terramia a couple of weeks ago and can't wait to return! We were welcomed with open arms and were instantly presented with a perfect class of Prosecco upon sitting down.
What followed was an amazing selection of food and wine! I enjoyed spending time with other fabulous Boston bloggers and getting to know more about Terramia.
Zucchini blossoms with truffle honey
An amazing dish that melted in your mouth. I was certainly happy to have seconds (And thirds!)
Caprese-Fresh buffalo Mozzarella and tomato salad, basil, olive oil
I order this dish every time I go somewhere that has it! This one was exceptional!
Lobster Fritters-Such a creative way to present Lobster. It was fresh, cooked well and had the right degree of crispness.
Fig, Walnut and Mascarpone Cheese Ravioli-This was the most amazing ravioli I have ever put in my mouth! The fig, walnut and cheese were just the right balance of flavors to please my palate.
A Trio of Desserts-Mouth watering Tiramisu, Bread Pudding and Chocolate Cake. While I enjoyed all three, the Tiramisu was my favorite.
I can't wait to return to Terramia with another group of great friends soon.
IF you find yourself in the North End, there is certainly plenty to choose from but be sure Terramia is on your list!