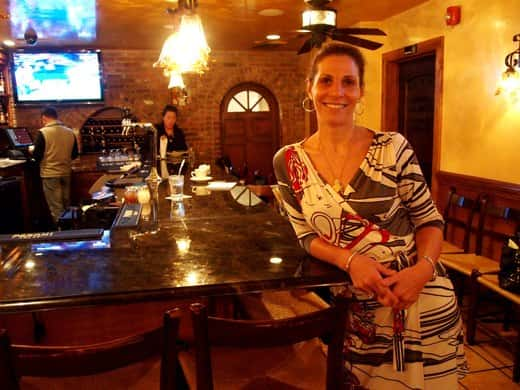 A mother's love brings a neighborhood to action
A mother's love brings a neighborhood to action
Restaurateur Carla Gomes will host CityFeast: Dining Out to Conquer Diabetes at her two North End eateries, Antico Forno and Terramia.
Shortly before David Gomes first birthday, in the summer of 1991, he came down with what appeared to be a cold. His parents took him to his pediatrician, who said he should be better soon.
When he was still sick a week later, they took him back to the doctor, who tested him for diabetes. That test came up negative, but he was still sick, still not eating and rapidly losing weight. In two weeks, he would go from a healthy 32-pound baby to a sickly 22 pounds.
On David's birthday, his father Ronald Gomes, a doctor, noticed that his breathing was labored. His parents rushed David to the emergency room at Massachusetts General Hospital, where doctors told them their baby was very sick, that he was slipping into a diabetic coma.
The previous test had registered a false negative. If he lived through the night, the doctors said, David would live the rest of his life with diabetes.
"I was devastated," recalled his mother, Carla Gomes. "We were just concerned about him surviving the night and dealing with the diabetes after. At that moment I wasn't even thinking of how do we take care of him, I was just praying to God that he lives."
David Gomes did live through that night, and the next. After a week, he was able to go home from the hospital, but that was only the beginning of his family's struggle to deal with his illness.
"It was the most confusing roller-coaster ride that I've ever been on in my entire life," his mother said. "Because the numbers didn't make sense to me. I didn't understand a high blood sugar or low blood sugar. Here I have a one-year-old baby, and I have to balance insulin, diet and exercise, and make all those three run in a baby that does not talk."
Carla Gomes said the challenge sent her into fighting mode. She learned the terminology of diabetes treatment and how to balance her son's blood sugar. She and her husband adjusted to the regular struggles, as they were forced to hold down a strong, growing child three times a day to give him a shot of insulin.
She kept sweets and sodas out of the house and monitored David's diet closely, no hamburgers from McDonald's and no chasing after the ice cream truck. That meant sacrifices for the whole family, especially their other son, just 17 months older than David.
Since that summer of 1991, Carla Gomes has watched as David grew from a underweight baby with a difficult illness into a strong, healthy young man. Today, 6-foot-2, 200-pound David Gomes is a 20-year-old student at the Massachusetts College of Pharmacy and Health Sciences. He hopes to become a endocrinologist and to help other sick children.
His struggle with diabetes has altered the path of David Gomes's life, and it's changed his mother's as well. The owner of North End restaurants Antico Forno and Terramia is a crusader for diabetes research who founded and helps host the neighborhood's sixth annual fund-raisers for the Joslin Diabetes Center, where her son has received treatment for 18 years.
For next Sunday's CityFeast: Dining Out to Conquer Diabetes, both of Gomes restaurants will join four others Lucca, Taranta, Tresca and Caffe Grafitti in offering a special five-course dinner with wine pairings for $150 per person, including tax and gratuity.
Proceeds from CityFeast benefit Joslin High Hopes Fund to support their efforts to improve the quality of life for people with diabetes and to search for a cure.
Gomes said from the beginning she's had eager support from fellow restaurateurs. "When you go to restaurant people for help, everybody in the restaurant industry seems to come together, donates money, has benefits," she said. We have a great restaurant community, in the North End especially.
The event has grown every year, Gomes said, raising close to $100,000 to date. My dream is to really get this expanded and raise tons of money, she said. Because in one night, in just a very few hours, if we can get so many restaurants to give us 50 seats, the amount of money we could raise in one night for diabetes would be incredible.
Just in the 20 years that the Gomes family has been dealing with diabetes, improvements in understanding and treatment have made life easier for David Gomes and the estimated 23.6 million other Americans living with the disease. Today, Gomes can drink a cola or eat a hamburger if he wants one, but he must remain constantly vigilant, giving himself a shot of insulin five to six times each day.
For Carla Gomes, the hope and the reason behind CityFeast is that David and others like him will see a day when a cure can be found. "My son doesn't know life without diabetes, and I want him to know what that day is like", she said.
By Jeremy C. Fox, Town Correspondent
January 24, 2011 on boston.com