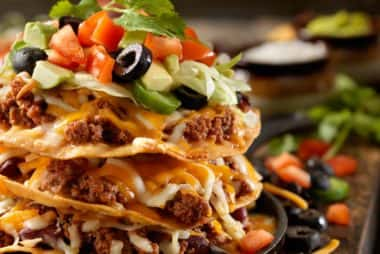 11 Ways to Save Money Eating Out
11 Ways to Save Money Eating Out
Dine early in the week
Restaurants often have deals on slow days, like Mondays through Wednesdays, to try and drive business. They'll usually post those deals on their websites or social media pages, so head online before deciding when and where to eat. "It could save a patron tens (even hundreds!) of dollars to just take a quick browse," says Sri Divel, operating partner of Salt Creek Grille. Check out more habits of people who are great at saving money.
Share the love
By sharing a few plates—big or small—with the rest of your table, everyone in your group can save money. "Make sure you have a variety of pastas, vegetables, and protein, and enjoy everything without overspending," says Carla Gomes, owner of Antico Forno, Terramia Ristorante, and Cobblestone restaurants in Boston. Even though you'll get to taste more dishes, you'll actually end up spending less money. Find out the most polite way to split the bill.
Sit at the bar
Visit an upscale restaurant without breaking the bank by choosing a seat at the bar, where you might find a bar or small plates menu. You'll get the same great food but for lower prices than you'd find in the dining room, says Irena Wigley, general manager at The Continental in Naples, Florida. Plus, sitting near the bartender could have its perks, says Scavarda. "If you strike up a conversation with the bartender and you two get along, you never know—there might be some complimentary bubbles in your future," he says.
Take advantage of happy hour
Of course, you know that happy hour can mean big savings on drinks—but it doesn't end there. "Most restaurants will offer smaller portions of available dinner items," says Divel. You might not leave as stuffed as you would from a heaping portion, but it will be plenty of food for a light dinner.
Go big, then go home
Restaurants have notoriously large servings, meaning you'll often end up eating way more than you ever would at home. Instead of ordering teensy plates to avoid expensive food overload, embrace those massive portions. "Opt for one of the larger entrees that you know you won't finish in one sitting, and wrap half to-go for another meal," says Gomes.