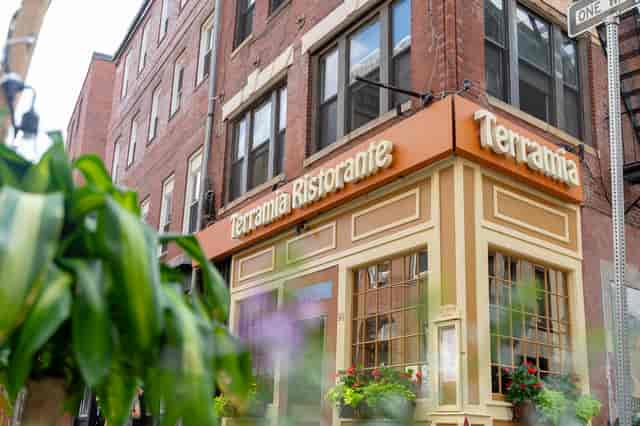 History
Mario Nocera and Joseph Tinnirello Legacy at Terramia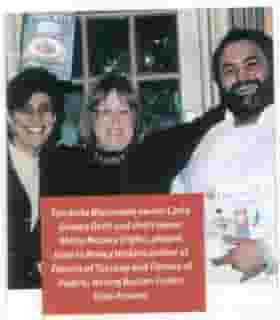 Carla Gomes Agripino opened Terramia Ristorante in 1993 with executive chef and Salerno native Mario Nocera. Terramia transformed old world classics into new world masterpieces. At Terramia, Nocera strived to preserve the authenticity and simplicity reminiscent of his Salerno roots while at the same time creating fresh, inventive interpretations of the classics. 

"I want my cooking to represent the impact of the new country on the old country". " I try to experiment with the best seasonal ingredients and create dishes that celebrate those ingredients." 

It has been said that the Salerno native Mario Nocera closely resembled the world-famous Italian tenor Luciano Pavarotti. Indeed, Mario Nocera was as much of a virtuoso in the kitchen. "Food is a lot like music", said Nocera. "If you have too many ingredients, or too many notes, they work against each other." "You should be able to pick out the flavors in a dish like you recognize the notes in a symphony."
"If you have too many ingredients, or too many notes, they work against each other." "You should be able to pick out the flavors in a dish like you recognize the notes in a symphony."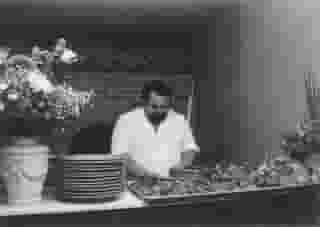 Since heMario Nocera, Joe Tinnirello and Carla Gomes can remember, Nocera has been in the kitchen. "I never had formal training", Nocera admitted, "but I've been cooking my whole life."

Nocera's philosophy about Italian cooking was that, in order to interpret it and change it, you must understand how the original dishes are made in Italy. "If historically you come from cooks", said Nocera, "you have a different potential as a chef."

Note: Mario Nocera returned to Italy, his signature dishes are still served in Terramia.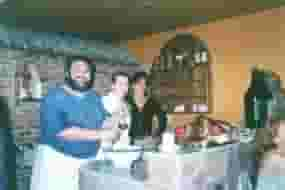 Native Bostonian, chef Giuseppe "Joe" Tinnirello's passion for cooking began at an early age. One of four children, Joe watched his Naples born mother in the kitchen where she would dry homemade pasta a top wooden boxes. "I started making gnocchi with my mother when I was 12 years old," remembers Tinnirello. While other kids were out playing in the streets , Joe began cooking in his mother kitchen. It is where he learned to preserve vegetables, cure meats, make pasta and homemade wine. "I was always watching my mother" he says. 

Sometimes, she would tell him to go outside and play, but he found her simple but but time consuming cuisine fascinating to watch. She did everything from scratch, preserved vegetables in the summer, and always made the pasta they ate. Every summer the family always went to Italy visiting his mother's family in Naples and his father's family in Sicily. Joe credits his mother with his love and passion for food and his Sicilian father for teaching him how to put the food and wine together.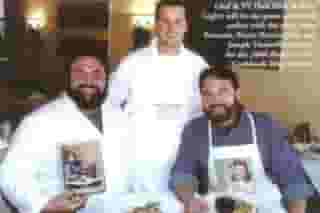 After his mother passed away, at the young age of 13, Joe took over his mother's kitchen to cook for his father, who is a welder, his brother and two sisters. Since his mother hadn't used recipes, he tried to remember what he saw and to imitate what she had done. Joe's mother did not know it, but she got her son started on this journey of becoming a chef. Tinnirello began cooking in several local restaurants in his neighborhood when he was just 14. 

After graduating from High school in 1993, at the age of 17 , Joe was introduced to Terramia's Executive chef, Mario Nocera. He and Nocera shared the same philosophies about authentic regional Italian food. "I knew what Mario wanted and understood his philosophy. He cooks like my mother, so I can always visualize what he is talking about". Tinnirello says he was drawn toMario Nocera Art Nocera because he's "just like my mother", basing his food on fresh ingredients and simple preparations so that the food's essential flavors come out.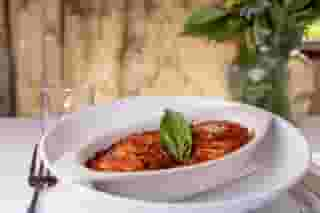 While working at Terramia, Joe began culinary school at Newbury College. In school they thought a lot of classical dishes. I would think to myself, "Oh, that's what it's called, my mom used to make that." With my mother, there weren't any words or definitions to describe a dish at home." While in school, he worked part-time at different hotels in Boston, including Ritz Hotel. He found that a hotel chef was not what he envisioned for himself in his future. 

He realized his goal was to work in a small restaurant like Terramia, and then one day have his own little place. He dreams of a place where he can create his own specials every night and also have a chance to interact with the customers who wave to him from their tables; or even join him in his tiny kitchen and get the best recommendation for dinner, just as he does now in Terramia. What one consumes at Terramia is very much Tinnirello's food, his passion, his creation.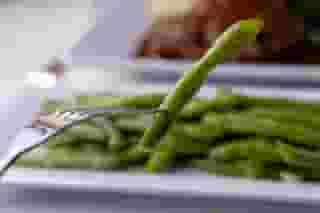 Throughout Joe's young adult life, he traveled to Italy every summer in search of tasting different foods from all regions of Italy. What he learned from his travels he brought back to Terramia. He found that foods were so simply prepared and changed from region to region and from one town to the next. Ingredients he found in one town were not available in the next and this is how restaurants prepare meals. "It's not about mass production in Italy as it is in United States. I would go with my aunt and uncle who own a restaurant in Naples and buy vegetables that I am going to cook with in a building that was built centuries ago . As you travel, you realize how everything is so regional.
In Naples, seafood is everywhere and is on every menu in every restaurant." Thanks to influences such as his mother's gnocchi, his father's homemade wine and yearly trips to his grandparents home in Italy, Tinnirello is blessed with both technical and a visceral understanding. His hearty cuisine, the influence of his Neapolitan background, helped make the restaurant the success it is today. Tinnirello cooks with exuberance that is simply infectious.